Berikut ini lirik lagu berjudul Jare Sopo Aku Gak Iso yang lagi viral di TikTok lengkap dengan video klipnya.
Lagu Jare Sopo Aku Gak Iso ini sebenarnya adalah lagu yang diproduseri dari musisi terkenal Mardial yang sudah dirilis sejak tahun 2018 silam gaes.
Namun, lagu kolaborasi antar Ramengvrl dan deretan beauty influencer ini justru kembali viral setelah ramai di aplikasi TikTok.
Diketahui lagu ini menceritakan tentang kisah seorang perempuan yang harus menjadi diri sendiri meski sering dikomentari orang lain.
BACA JUGA: Nih Lirik Lagu Ramengvrl ft Euro - Vaselina, Lengkap Video Klip Gaes
Berikut lirik dan video klip lagu Jare Sopo Aku Gak Iso dari Ramengvrl ft beauty influencer yang sudah dihimpun Tim KUYOU.id untuk kamu.
Lirik lagu Jare Sopo Aku Gak Iso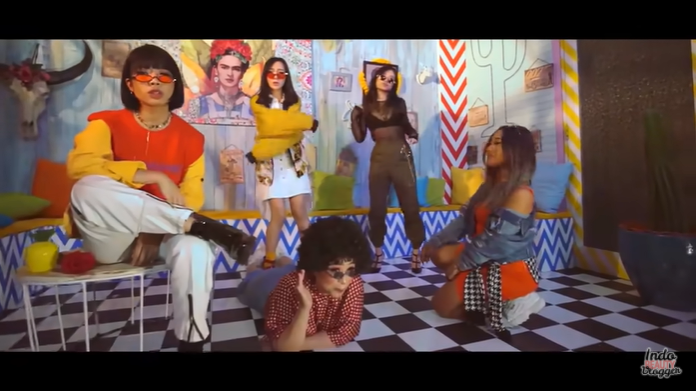 remember when you put a shame on me, i'm nanda arsyinta
hey, open your d-mn eyes widely now you see
you said i'm not good enough then i wanna tell
now my beauty's like a tinkerbell on a fairytale
look my eyes, eyebrows on fleek
be strong girl while soft like a silk
catch your dream with a blushing cheek
i don't have a time with the haters
cuz i'm busy making fans a prouder like em' wearing prada
[verse 2: t-tan tyra]
t-i-t-a-n
ありがと to my fans
can be #t-tanbajuharam
if you want that then i am
call my 1-800 beauty number
i'll teach you how to glam (yeah!)
haters in the start
but now all of 'em are fans (yeah!)
wear what you want
cause it's all about having the confidence confidence (ou!)
proud to be women standing on stage
all about women empowerment (ou!)
so, be a queen, better dream, in the scene, make it big on the screen
do you see i made my dream reality
[verse 3: cindercella]
jare sopo aku gak iso
jare sopo aku gak iso
elenerku gak roto loh?
terus opoo?
mekapku jan uaneh
yet my fren say hiiiiiiiii
apik'e raimu raiku do whatever you wanna do (yeah!!)
buenci pol body shaming jan nggarai crying
gendat gendut kura kuru lambemu lambemu (yahh yahh!!)
i love my body & you should too
siji loro telu, hey all, ai lop u!!
[verse 4: minyo33]
ayy yo
this is my story time
growing up fragile, underestimated
losing who i am, sick of the fear
fighting inner demon
being tough as i can be
fighting for who i wanna be
hidup aing, k-maha aing, baby
building empire of queen bees
people be itchin' spillin' the tea
it's me who they wanna be
livin' my dream
baby!!
[verse 5: ramengvrl]
i'm a bad b-tch
but i'm really just a basic b-tch
they say i'm da man but a lady is what i wanna be
fxxk designers, i got my clothes at h&m
on the sale section, is where i got these gl-sses, man~
people think that i don't give a f-ck
but i do, i just choose to ignore it (yuh!)
everybody thinks i'm the life of the party
all i wanna do is to play final fantasy
i still drink coffee from starbucks, (wooh!)
i'd rather wear no makeup (hih!)
they expect me to get lit lit lit
but i'm a human too and i hope you'll understand it
[chorus]
up on the screen
is the only thing u see
oh yes we're a queen
still got personalities
you think we're pretty
yahh yahh yahh yahh yahh yahh
we're pretty real
yahh yahh yahh yahh yahh yahh
even when i'm in pajamas
haters still givin' me drama
you won't leave us alone
but you can't break all my bones
you think we're pretty
yahh yahh yahh yahh yahh yahh
we're pretty real
yahh yahh yahh yahh yahh yahh.
Video klip lagu Jare Sopo Aku Gak Iso
Buat kamu yang mau denger dan nonton video klipnya, bisa saksikan di bawah ini gaes.
BACA JUGA: Ini Lirik Lagu Saka Praja - Gelang Putih, Anak Didi Kempot yang Ikuti Jejak sang Ayah Gaes
Nah, itulah lirik dan video klip lagu Jare Sopo Aku Gak Iso yang viral di TikTok gaes.
---
Share to: